How to Model Newsroom Page
A dedicated news section allows you to communicate with your audience on market subjects and also show your company's influence and achievements by sharing the latest news and publications.
Page structure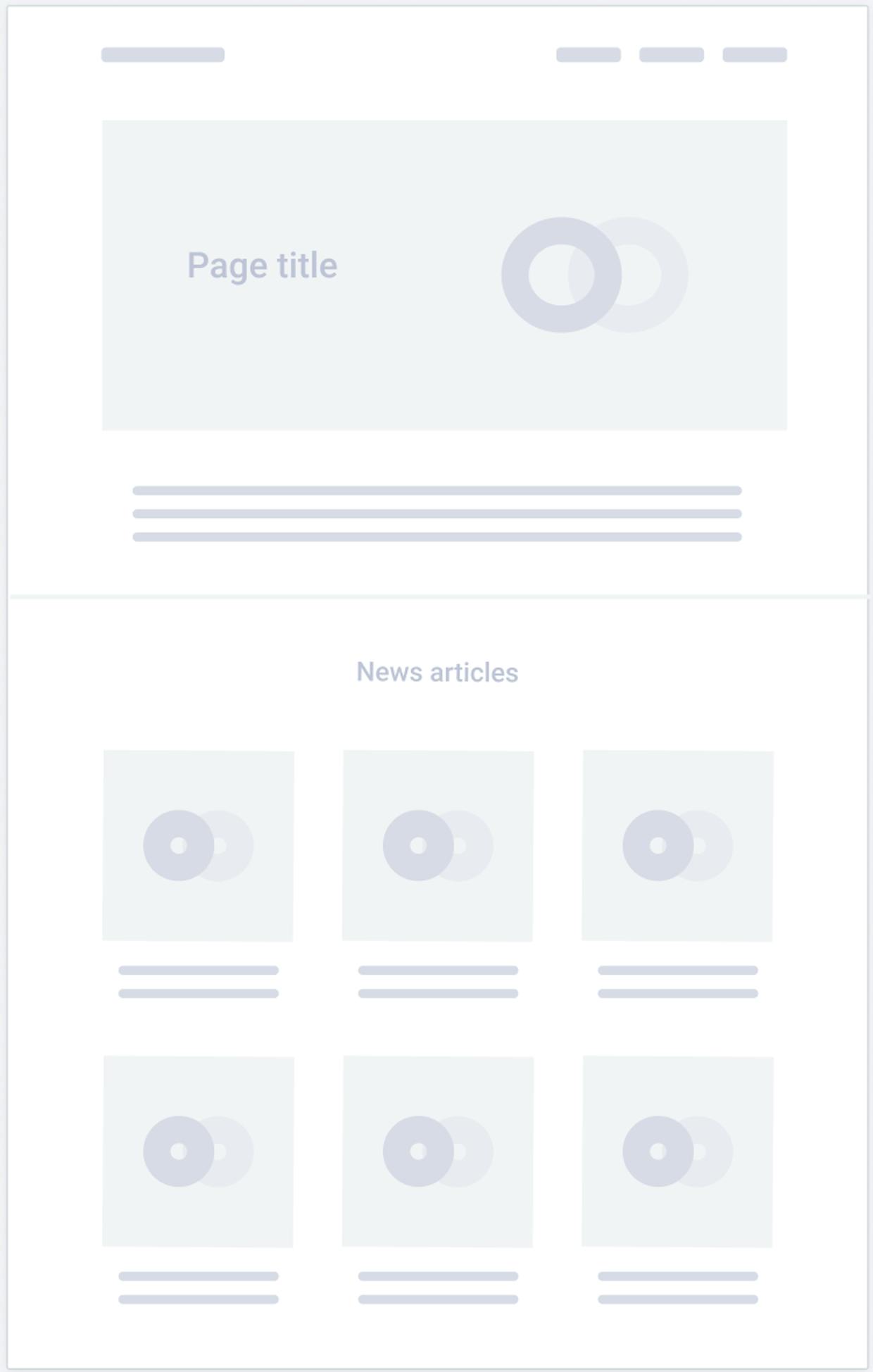 This will be the first section of your page dedicated to the Page title, hero banner and page description. We call this section static since it won't be moved lower in this page. It consists of:
A Title field fixed to H1, for the newsroom page title.
An Image field for your hero banner. The image will be automatically compressed and optimized.
A Rich text field to draft a short description or introduction for the page.
1 of 2
This Slice is dedicated to preview the news articles. It consists of:
In the non-repeatable zone
A Title field fixed to H2 for the title of the section.
In the repeatable zone
A Key text field to insert the label for a call-to-action button.
A Content relationship field to link to an internal content or any page on the internet.
2 of 2
How to set it up in Prismic
Create a new non-repeatable Custom Type
Copy the JSON below and paste it under the "JSON Editor" of this new Custom Type
Copy
Expand/Collapse
{
  "Main": {
    "uid": {
      "type": "UID",
      "config": {
        "label": "UID",
        "placeholder": "UID"
      }
    },
    "page_title": {
      "type": "StructuredText",
      "config": {
        "single": "heading1",
        "label": "Page title",
        "placeholder": "Page title"
      }
    },
    "hero_banner": {
      "type": "Image",
      "config": {
        "constraint": {},
        "thumbnails": [
          {
            "name": "mobile",
            "width": 100,
            "height": 100
          }
        ],
        "label": "Hero banner"
      }
    },
    "page_description": {
      "type": "StructuredText",
      "config": {
        "multi": "paragraph, preformatted, heading2, strong, em, hyperlink, image, embed, list-item, o-list-item, rtl",
        "label": "Page description",
        "placeholder": "Page description"
      }
    },
    "body": {
      "type": "Slices",
      "fieldset": "Slice zone",
      "config": {
        "labels": {
          "news_article": [],
          "news_articles": []
        },
        "choices": {
          "news_articles": {
            "type": "Slice",
            "fieldset": "News articles",
            "description": "News articles",
            "icon": "assignment",
            "display": "grid",
            "non-repeat": {
              "title": {
                "type": "StructuredText",
                "config": {
                  "single": "heading2",
                  "label": "Title",
                  "placeholder": "Title"
                }
              }
            },
            "repeat": {
              "cta": {
                "type": "Text",
                "config": {
                  "label": "CTA",
                  "placeholder": "CTA"
                }
              },
              "link_to_document": {
                "type": "Link",
                "config": {
                  "select": "document",
                  "label": "Link to document",
                  "placeholder": "Link to document"
                }
              }
            }
          }
        }
      }
    }
  }
}
What editors will see