The headless website builder made for rapid content creation
Release strategic pages on your website, while staying on brand every time, with an intuitive UI.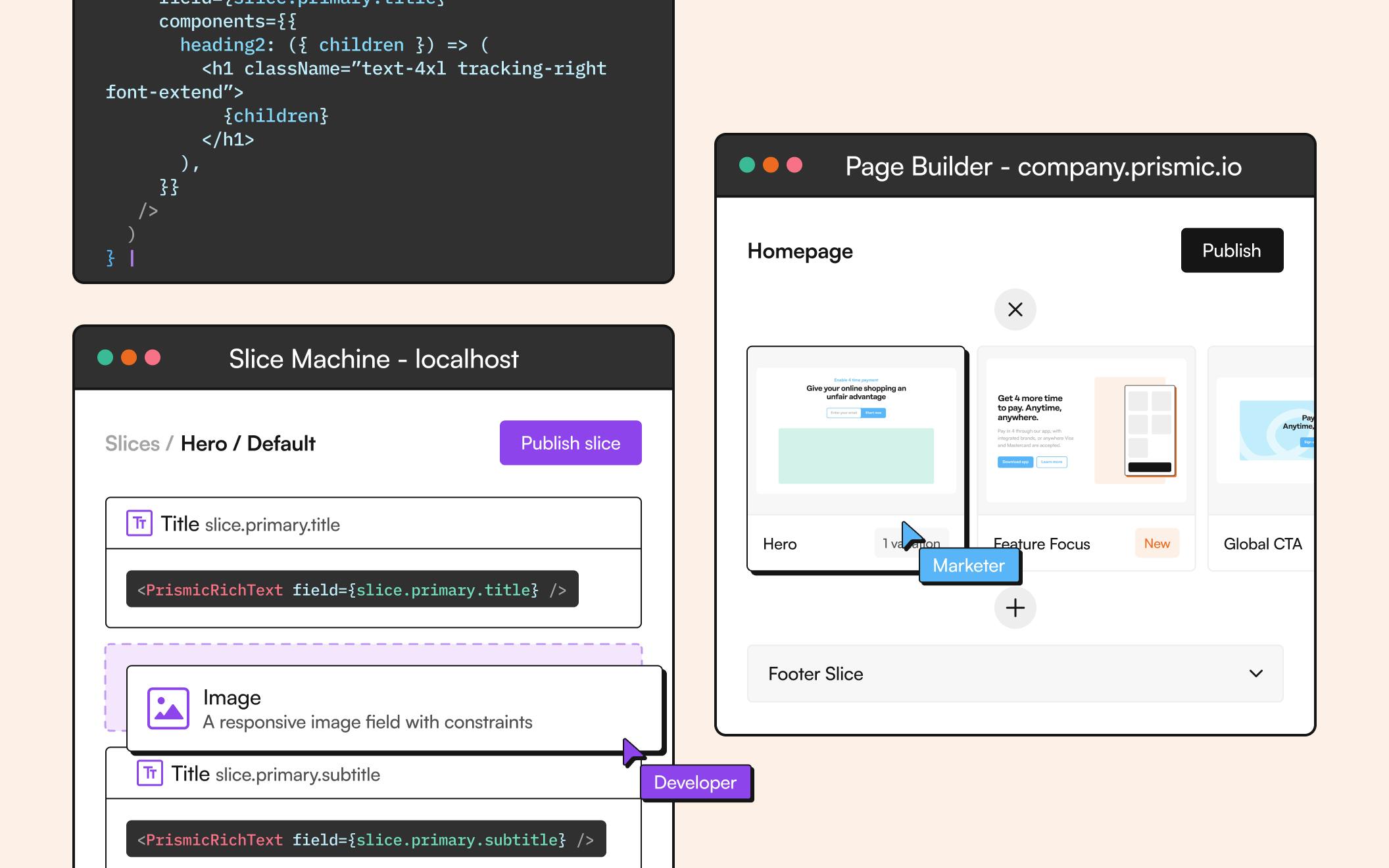 Over 10,000 companies are growing fast with Prismic. Will you join them?
Prismic is the headless website builder made to power up your content strategy
Easy page creation

Open up page creation to the whole team. Build, preview, then launch new pages intuitively with a page builder experience.

On-brand every time

Maintain a unique brand across all pages through fully customizable building blocks called Slices.

Scalable workflow

Launch stunning new pages quickly by reusing on-brand building blocks without further development resources.

Performance-ready

Create fast-loading pages by integrating a headless website builder with an optimized tech stack.
Marketing managers - liberate your strategic genius
You have the blueprints for growth — now it's time to put them into production with a powerful headless website builder.
Leverage custom, on-brand building blocks to enable your team to assemble pages quickly and intuitively.
Technology leaders - take your team to the future of the web
You know that the future of website development relies on components. Now it's time to turn it into a well-oiled machine.
Ship a fast site with custom building blocks for your content teams. Their content will benefit from components, just like your code.
They scaled their content creation. Now it's your turn.
I didn't want our site to look like a template, like if we bought a theme. I wanted unique pages, unique content. Slices give me a standardized CMS so pages look unique even if we are reusing the same Slices over and over again.
Our Software Engineers ship 10-15 Slices every quarter. Our content team's hunger for more Slices is growing, which is great, because we create better user experiences.
Prismic enabled us to decentralize website content creation to 30+ people thanks to a clever Slice system and easy content modeling. I'm still amazed at how fast each new joiner is ramping up!
Scale beautiful sites quickly
Chat with one of our experts to get your questions answered and learn why Prismic is the best choice as your headless solution.