How Arcadia is Telling a Consistent Brand Story with Prismic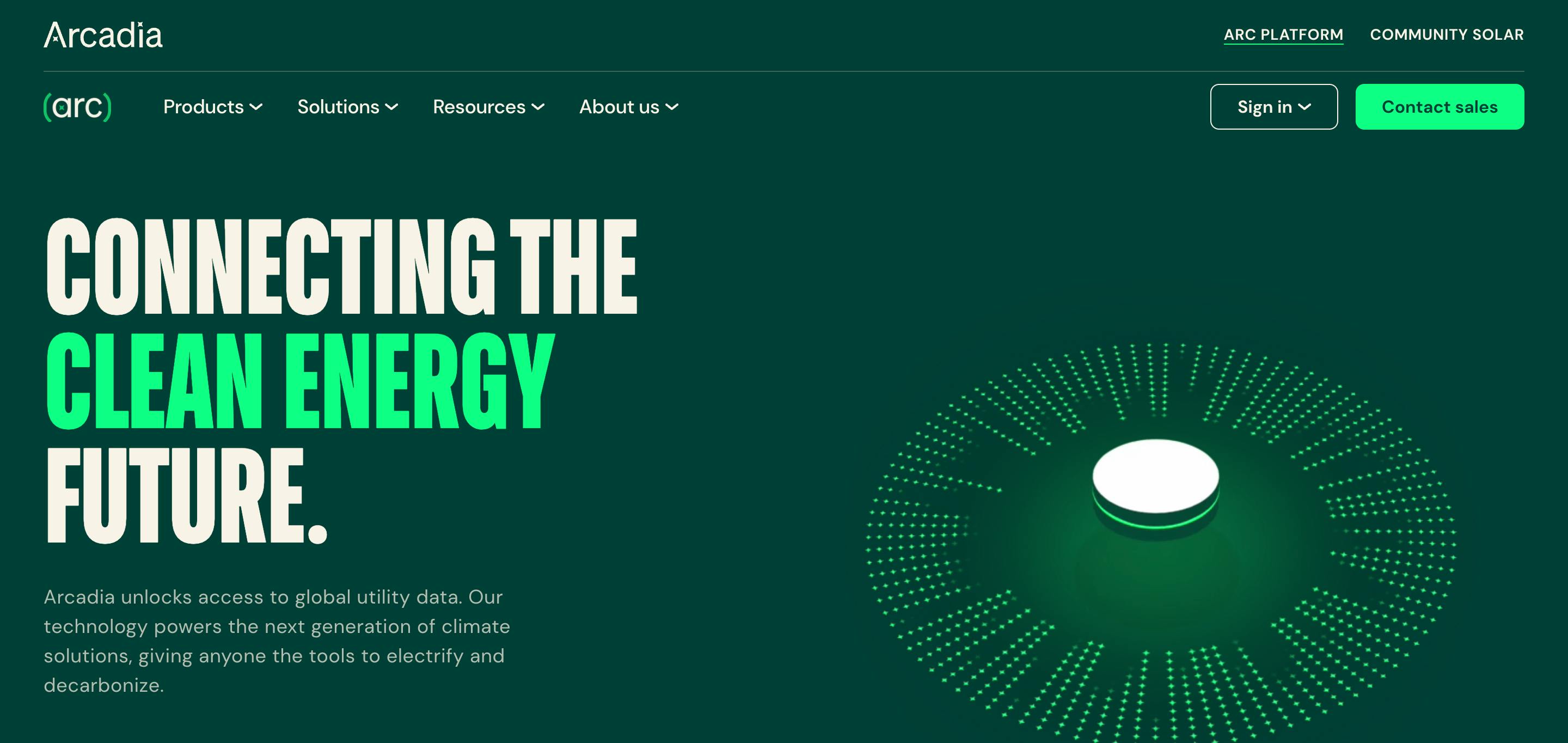 Summary
Arcadia is a climate tech company founded in 2014. Their community solar program connects homeowners and businesses to local solar projects saving participants money on their utility bills. Additionally, they offer an energy data platform for businesses that unlocks access to comprehensive utility data, analytics, and more.
Arcadia needed to refine their website user experience and further differentiate their offerings for distinct audiences across their two distinct products — their community solar program, and the Arc data platform. They collaborated with an agency called Fix Studio on their website strategy and implementation.
Prismic gave Arcadia the tools to tell their story dynamically while maintaining a consistent brand identity throughout.
The challenge: maintain a clear and consistent brand narrative across the website
Arcadia had a compelling story to share, one that was built on innovation and a clear vision for the clean energy future. But as they grew and their offerings diversified, their digital presence needed a polish.
The challenge was twofold. First, they had to cater to two distinct audiences, each with its own set of needs and preferences. As Adam, Director of Brand and Comms at Arcadia, pointed out, "Both of our products connect the clean energy future and live up to our mission as a company, but they do so in different ways, for different audiences. What we really needed was a website that could account for the various aspects of our business."
The second challenge was clarity. Their existing website, though beautifully designed, had areas of improvement. One significant issue was the structure of CTAs: "One of the issues with our previous website was the call-to-action (CTA). The navigation bar featured too many CTAs across both of our products, even when visitors were on pages that were entirely focused about one of our offerings." This not only diluted their messaging but also created potential points of confusion for visitors.
Adding another layer of complexity was the need for flexibility and scalability. The future was bright, and Arcadia needed a platform that wouldn't just meet their immediate needs but would also evolve alongside them. They had a clear vision: a site that told their story with clarity and precision today and was adaptable enough to carry their narrative into tomorrow.
The solution: implement a brand-forward strategy with slices
When faced with the challenge of refining their brand's narrative, Arcadia recognized the need for a more tailored approach, one that could resonate with the audiences for their two distinct products and maintain their branding's integrity. As Adam shared, "We worked very closely with an amazing agency called Fix Studio to design and build the strategy for the website."
Their collaborative effort ensured that each narrative was distinct yet cohesive. "By refining each story to be audience-specific on designated pages, we could create a more targeted CTA. Now, there's a sticky navigation bar that accompanies the user as they scroll. This bar is directly linked to the CTA for that particular page and its intended audience, marking a significant improvement for us," they noted.
Leveraging the power of Prismic was a conscious choice, building upon Arcadia's pre-existing relationship. "We had a beautiful website on Prismic. We view this as an evolution of that site," Adam said.
One of the key factors that drove Arcadia's decision to continue with Prismic was the platform's ability to ensure brand consistency. Adam highlighted
Brand consistency is the main reason we continued with Prismic. We have a beautiful and impactful brand, and we wanted to ensure that even as we distinguish certain parts of the site for different audiences, the brand still maintains its consistency and impact. Using Prismic helped us do that in an effective way with slices.
Adam Offitzer
Director of Brand and Comms
Their strategy team ensured an effective and sustainable solution. Adam explained, "We had a core working team at Arcadia that included brand and content experts, as well as our growth squad. They knew Prismic well and understood its intricacies."
Furthermore, they planned for long-term flexibility. Adam continued, "They accounted for our needs and Prismic's capabilities. The goal was to templatize in a way where the site could scale and provide us with long-term flexibility."
Slices have worked well for us because we have an excellent designer internally who understands the slices and knows when and how to use them. This ensures that we can always make pages that feel like Arcadia because the slices are modular and flexible, allowing for consistency across the website.
Adam Offitzer
Director of Brand and Comms
Another feature that Prismic brought to the table was the flexibility it offered in integrating with various tools. Adam pointed out, "One of the reasons we decided to go with Prismic over other platforms was its customizability for certain integrations. Our engineers and developers found Prismic to be more accommodating when it came to certain tools that other CMS platforms couldn't integrate with."
After the initial launch, Arcadia continued to fine-tune and optimize, highlighting the iterative nature of their approach. Adam shared, "We had to launch at a specific time based on a strong business need to tell our story. But there were parts of the website still in development. Through Prismic's developer network, we found an incredible developer, Kris, who knows Prismic so well and understands marketing and sales needs. He's been instrumental in refining the site, ensuring it gets better over time."
We're incredibly proud of the work we did leading up to this crucial launch. We're equally proud of our ongoing efforts to tweak, refine, and improve the website over time. This aligns with what we appreciate about Prismic; as their homepage suggests, it's about building a website that keeps getting better.
Adam Offitzer
Director of Brand and Comms
In conclusion, Prismic's slices, modularity, flexibility, and integration capabilities empowered Arcadia to not just address their immediate narrative challenge but also to lay a robust foundation for the future. The collaboration with Prismic has ensured that their website remains adaptive, cohesive, and consistently in line with their brand's identity, ready to evolve alongside their ever-expanding story.
The results: brand consistency across the website, iterative improvements over time, and flexible integrations
Brand consistency across the website: Using Prismic's slices, Arcadia was able to ensure a consistent and impactful brand presentation across distinct site areas tailored to different audiences.
Iterative improvements over time: Arcadia adopted a continuous refinement approach. They were able to tap into Prismic's developer network to ensure their site remained adaptive and always at its best.
Flexible integration of different tools: Prismic provided flexibility Arcadia's team needed to integrate essential tools that other CMS platforms couldn't accommodate.
Bonus tip from Arcadia: the best website structure for when you speak to multiple audiences
If you need to tell a cohesive brand story across multiple audiences, use a well-defined website structure. Adam says it's crucial to create specific pages tailored for each audience. By creating a structure, you allow precise communication without sacrificing your narrative.
We built a website structure that can essentially account for these two sides of the business. Once the visitors get to those parts of the website, these parts tell a story that's tailored for that specific audience. We came up with a sort of 'choose your own adventure' version of the website. Audiences can self-select based on who they are and ensure they're viewing the most optimal version of the site for them.
Adam Offitzer
Director of Brand and Comms