How Pallyy Grew Daily Visitors from 500 to 10,000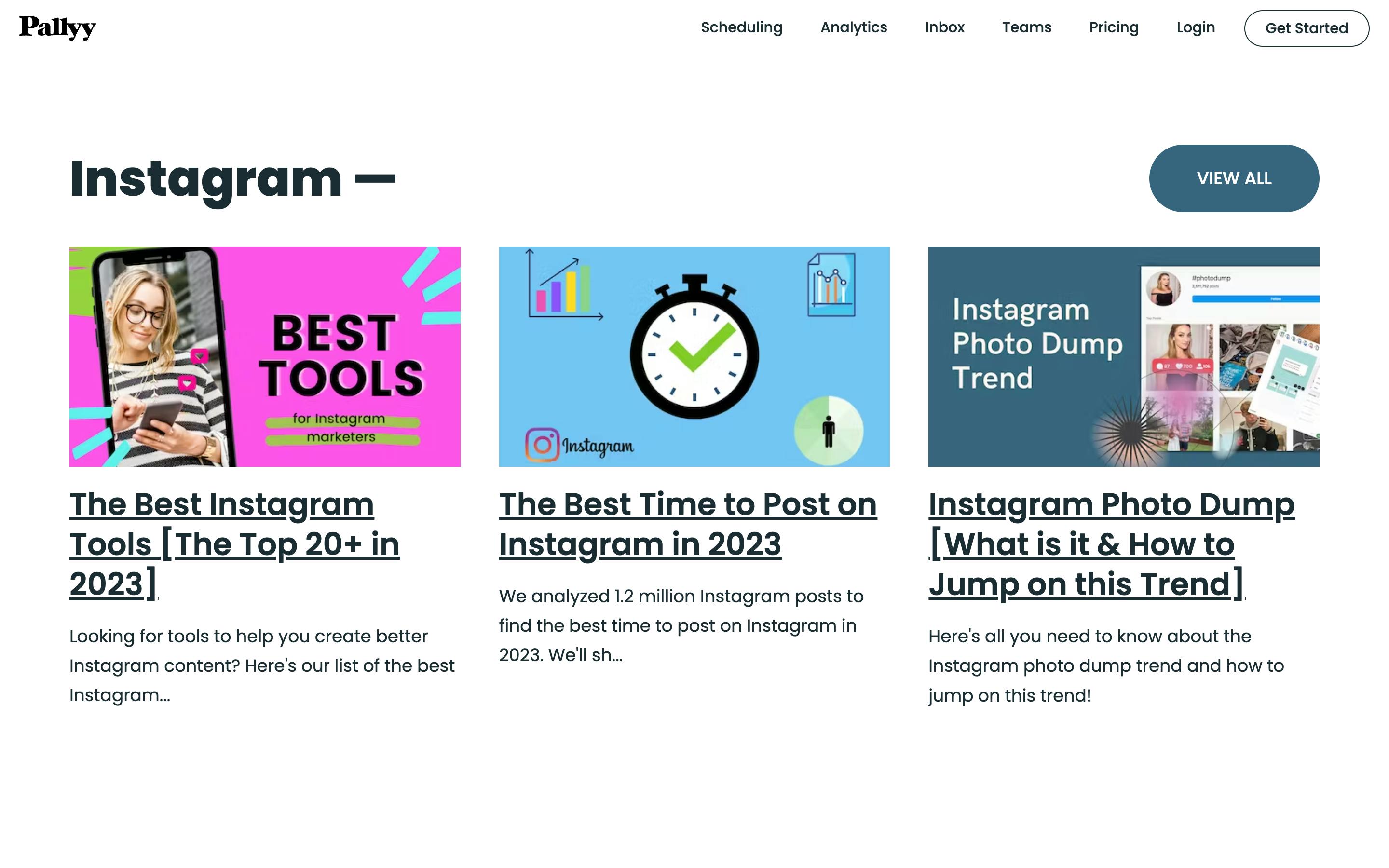 Summary
Pallyy is a social media management platform designed for brands and agencies. It enables brands and agencies to schedule and publish social media posts across multiple platforms.
Tim, the founder of Pallyy, recognized the importance of content early on and established a blog from the outset. However, as the company grew, a challenge arose: Tim found it difficult to invite content writers to assist because the blog was hard-coded.
After discovering Prismic, Tim transformed his blog to be editable for content writers, and even enhanced its performance and design consistency. After making the switch, Pallyy saw daily users increase from 500 to 10,000. To this day, Tim has attracted 3.7 million users to his blog.
The challenge: difficulty scaling due to an inflexible blog setup
When Pallyy first began, it was a result of hard work, continuous learning, and adaptability. Starting a business on one's own can be challenging. For Tim, every task, presented an opportunity to learn and to build something remarkable — whether it was coding or marketing.
Initially, Pallyy started as a social media management and analytics tool to assist brands and agencies. However, Tim soon decided to focus solely on simplifying social media posting. His objective was clear: help brands and agencies manage their social media with greater ease and speed. By doing this, Tim aimed to save his clients time and boost efficiency.
In the beginning, Tim was primarily concerned with introducing new features. But after two years he realized he had neglected marketing.
He quickly found that marketing was the most challenging aspect, particularly since it was unfamiliar terrain. He understood the importance of high-quality content and recognized that SEO was a long game; so he needed to start as soon as possible.
Tim's blog setup worked well when he was the sole contributor. As he grew Pallyy, he realized he needed help. But the blog's setup meant no one else could manage it.
I had built a blog but it was all locally stored in the code, which means it was impossible to get a content writer to help me.

Tim had a couple of requirements when he started looking for a solution.
From the beginning, Tim built Pallyy's blog with Nuxt. He chose Nuxt due to its excellent reputation, supportive community, and ease of use. It was crucial that the new content management system was compatible with his framework of choice.
Tim also wanted to ensure that the solution he picked was flexible enough to allow him to set up SEO-friendly URLs for his blog.
It was also crucial that the solution he picked was user-friendly and ensured consistency in publishing with an ambitious goal of five blog posts a month.
The solution: implementing Prismic for flexible content management
In Tim's search for a solution that would meet his requirements, Prismic emerged as a promising choice. Tim hesitated at first since the concept of a "headless" solution sounded like it might add unwanted complexity. But Prismic's seamless integration with Nuxt appealed to him.
When Tim tried Prismic for the blog, he was surprised at how quickly he got everything working together. But as he kept working, something even more interesting stood out: Prismic made content creation easier. With Prismic, Tim could invite content writers to the blog and be confident that they could create new posts that maintained the blog's overall branding and design — an essential part of growth marketing.
The simplicity, integration with Nuxt, and simple team features made it the perfect choice.

After adopting Prismic, immediate improvements in content management efficiency became apparent. The SEO benefits took a bit longer to materialize — approximately six months. This patience paid off, as SEO eventually grew to drive 90% of Pallyy's traffic.
The results: releasing blog posts faster, driving more traffic and conversions
After adopting Prismic, immediate improvements in content management efficiency became apparent. The SEO benefits took a bit longer to materialize — approximately six months. This patience paid off, as SEO eventually grew to drive 90% of Pallyy's traffic.
After switching to Prismic, Tim published over 80 blog posts at a rate of five blog posts a month, and more and more people came to Pallyy's blog and website. The number of daily visitors surged from 500 to 10,000.
Not only do good articles attract visitors to the site, but they also entice them to use Pallyy's services. The standout articles on Pallyy's blog served two primary purposes: acquiring more customers and securing more backlinks from other sites, which further enhanced Pallyy's online popularity.
Before, it took at least two hours to add a new post to the blog. Now, with Prismic, it only takes ten minutes.
Before, Tim had to hard-code all of the blog posts himself. Now, he delegates that work to his team of writers.
Before, Tim had to worry about delicate HTML and CSS coding to keep his blog on brand. Now, Prismic keeps Pallyy's brand on point and preserves its special look and style.
Prismic and Nuxt enabled Tim to achieve excellent lighthouse scores that drove a boom in search engine traffic.
Bonus tip from Pallyy: publish consistently
Starting a business by yourself? It can be tough when you have to do many things at once. But Pallyy has done it and learned a lot. Here's Tim's best tip:
Spend lots of time creating valuable content. It can be blog posts, feature pages, comparison pages, alternative pages, a glossary or anything else you can think of. The thing with SEO is it takes time, so starting as soon as possible is a big benefit. It took me 2 years to realize this.