Developer Spotlight: María Ylayaly Salas Sanchez
Meet María Ylayaly Salas Sanchez, a Systems Engineer from Venezuela with a passion for software development, now residing in Ecuador. Maria's love for technology began when she started working with software that transformed mundane activities into something more functional, making a significant impact on institutions and individuals alike.
Maria is not just an engineer but also a passionate cyclist, a voracious reader, and loves spending time with her family. Through her relentless dedication and commitment, Maria aims to create products that provide practical and innovative digital solutions.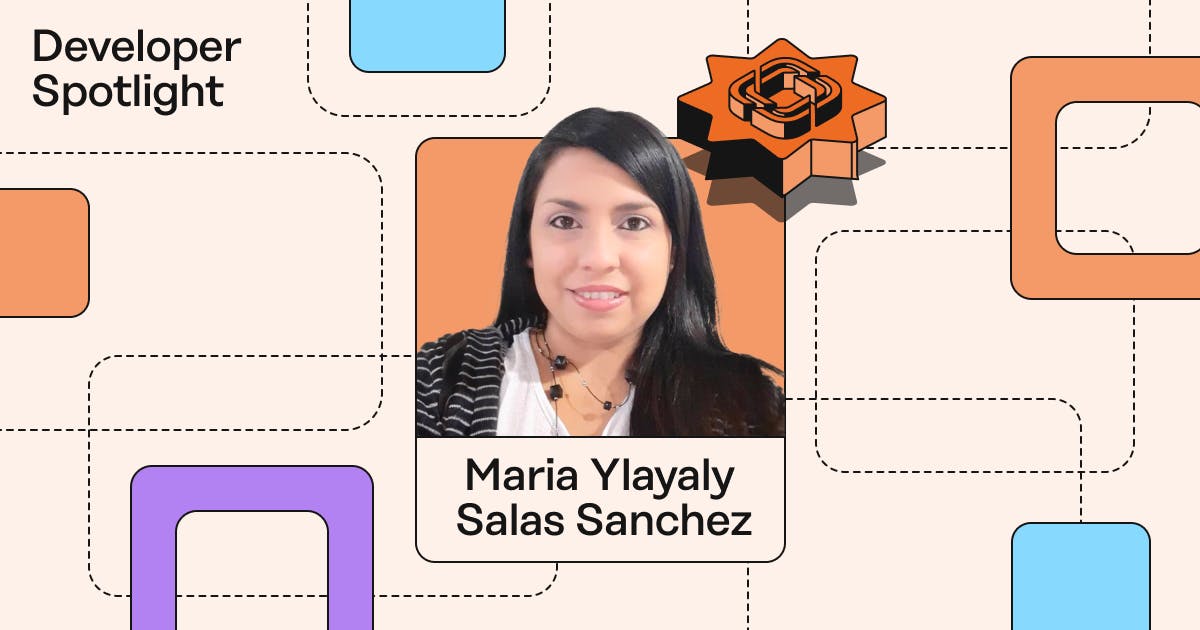 Coding with precision and passion
Maria has expertise in developing interactive and dynamic web applications using popular frameworks like React, Next.js, Gatsby, Vue, and Nuxt.js. She's a whiz with languages such as JavaScript, HTML5, CSS, and SCSS, providing clients with the simplicity they need when building websites.
Maria's work extends beyond just development. She also specializes in integrating custom functionalities and microservices into websites and implementing advanced interactions. This allows for a more personalized and unique user experience for her clients.
Building with Prismic: The Jawudi Project
Maria's recent accomplishments include developing the web application for 'Jawudi,' a company specializing in local and international remittance services. The website, built using the Next.js framework, offers users a comprehensive introduction to the company and its services. Additionally, it provides unique functionality allowing users to calculate fees and currency exchange rates.
The Jawudi website leverages the SSR capability of Next.js, ensuring that website pages are rendered on the server before being sent to the client, thus improving performance and SEO. Moreover, Next.js offers an automatic routing feature, simplifying the management of different pages and their URLs, and seamlessly integrates with Prismic Slice Machine, providing local development and testing benefits.
Maria managed to build 13 pages by utilizing 23 reusable slices. This project allowed her to strengthen her knowledge of the frameworks and technologies employed, emphasizing the importance of adhering to a development methodology, in this case, the agile Scrum methodology.
Check out Maria's Jawudi project!
Ahead of the curve
Maria places a high value on staying up to date with the latest updates in the frameworks she uses. She found that this allows her to maintain the quality of her work and continually enhance the development process, speed, and user experience. She has also devoted efforts to creating and maintaining a personal library consisting of various modules. These allow her to streamline the development process by using reusable components and code to cater to each project's requirements.
She strongly recommends using a serverless architecture for its multiple benefits, such as reducing system overhead, mitigating the risk of data loss, and eliminating the need for continuous server updates and maintenance. Maria firmly believes that adopting serverless architecture optimizes application performance, scalability, and efficiency.
From experience, a word of advice when building with Prismic
For Maria, Slices are the most indispensable components when developing templates in Prismic. She points to their versatility and flexibility in structuring page content modularly, empowering clients with creative freedom and autonomy.
She also highlights the need for developers to make the most of Prismic's flexibility and compatibility with multiple technologies. Its integrations with popular frameworks make Prismic an ideal choice for any project.
Maria's vast experience with Prismic covers technologies like PHP using Laravel, Slim, Codeigniter, Javascript using Node.js, React, Vue, Next.js, Nuxt.js, and even Visual Basic in the ASP.Net development environment. This versatility allows Maria to adapt Prismic to different projects and leverage its features across various technologies.
Reflections and recognition
As a software developer, Maria takes pride in creating interactive and high-quality web applications that provide an excellent user experience. She relishes the opportunity to find innovative approaches to solve problems and bring her projects to life. For Maria, the greatest satisfaction comes from seeing her creations being used and appreciated by people.
In the world of technology, where innovation is key, Maria's dedication and love for her work shine through, making her a valued figure in the Prismic Community and Tech industry at large. She embodies the spirit of progress, inspiring others with her work ethic and passion for tech.
Connect with Maria
Are you intrigued by Maria's work and have a project in mind that could benefit from her expertise? You can connect with her by contacting the Quo Agency, and referencing this post. Maria welcomes any opportunity to collaborate on innovative projects that push the boundaries of what's possible in digital solutions.
Prismic + Maria
In this Developer Spotlight, we've highlighted Maria Salas, as her agency, Quo, recently joined the Prismic Partnership Program. Recognized for their expertise, Maria and her team now have access to the advanced resources and continuous support that come with being part of a Certified Prismic Agency.
Partner with Prismic
If you are an agency ready to realize your full potential and shape the future of headless development, apply now to join the Prismic Partner Program and make your mark with us!