Release Week: Stand Out as a Prismic Expert
This week is Release Week 🥳. All our releases have one goal: to make your life easier as a developer working on Prismic projects. We've already announced new developer tools, improved ways to connect with us and others in the community, and new resources for developers joining Prismic. Let's look into how we're also helping you grow your business as an agency or a freelancer.
Hundreds of new companies join Prismic every week. This means many marketing teams get onboarded to Prismic without necessarily having a full-time developer available to build more Slices for them and help grow their websites.
These teams turn to us, asking us for recommendations of good agencies or freelancers to partner with. So we thought: that's a great opportunity to connect them with you, our Prismic experts, who enjoy working on Next.js or Nuxt.js websites and would like to do more!
That's why we've released the new Hire a Developer section on our site to help these clients find you. To give marketing teams that extra confidence and excitement about working with every freelancer or agency listed on this page, we are also adding our seal of approval to your work, making accepted applicants certified Prismic Partners.
These pages are a new addition to our existing Partnership Program, which we are continuously amplifying. If you're not already a Partner, it's quick and free to join the club. We'll cover how you can join later in this article.
Why do we care about your success?
You, agencies and freelancers, are a key part of Prismic's current success. Today one in three developers who join Prismic is in the business of website development, and it's a great thing.
We consider it an opportunity to have so many of you in our community because you work on multiple websites every year and keep bringing great companies to the platform. But most of all, you have experience working with different teams in different setups, so you are in a unique position to steer our product in the right direction. Your feedback and insights are gold to us.
So three years ago, we started a Partnership Program to show you how important you are to us. Our goal with the Partnership Program is to:
Help you find projects you're excited about
Support you through projects and with clients
Get your ideas on how we can make our product better
Fun fact to prove this last point 👆 Slice Machine was inspired by an idea from Birkir at Ueno, a great Icelandic agency.
Helping you find the clients you're excited about
Companies like Netflix, Bubble, Spotify, Vice, McDonald's, Deliveroo, and many more have websites on Prismic for which they hired an agency or a freelancer to help with implementation. These companies might need a new developer at some point, and it could be one of our partners.
To make it easier for you and prospective clients to connect, we've added a new Hire a Developer section to the Prismic website. This page lists agencies and freelancers that have worked on successful projects with Prismic and Next.js or Nuxt.js.
We've reviewed at least one recent project from each of them, so we can certify that they are great at building websites with Prismic. Potential clients can filter the list by location and by technology, so we make sure they find the right partner easily.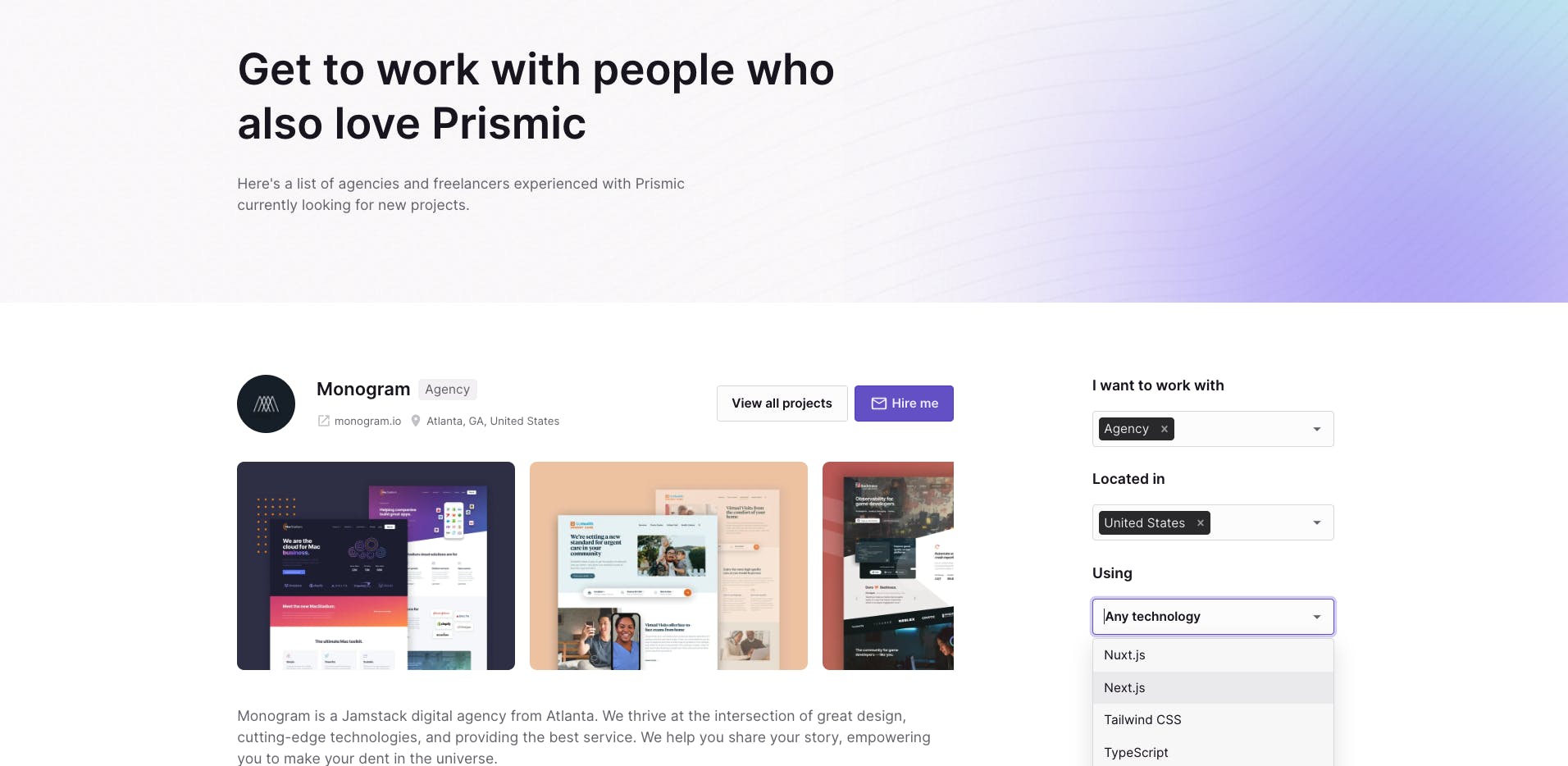 We are proud of your work, and we want your potential clients to see it so they get excited about working with you. This is why we've paid special attention to how we feature your projects on your profile.
Being listed on the page will make you a certified Prismic expert, a member of our Partnership Program, and give you access to some other awesome benefits. Let's unpack those next.
Prismic's Partnership Program for agencies and freelancers
We are committed to making Prismic more than a good product for agencies and freelancers. We see ourselves as an ally to our Prismic Partners, helping them get projects that they're really excited about and that they thrive at delivering.
Specifically, our Partnership team focuses its energy on:
Helping you win projects - We can help you build demos and pitches for prospects. We can also provide resources to show the growth impact of moving a website to Next.js or Nuxt.js with Prismic.
Helping throughout the implementation - You're not alone during the implementation. We can review your project and provide checklists to make sure you're on the right track. For large, complex projects, we can even connect you with one of our Solutions Engineers.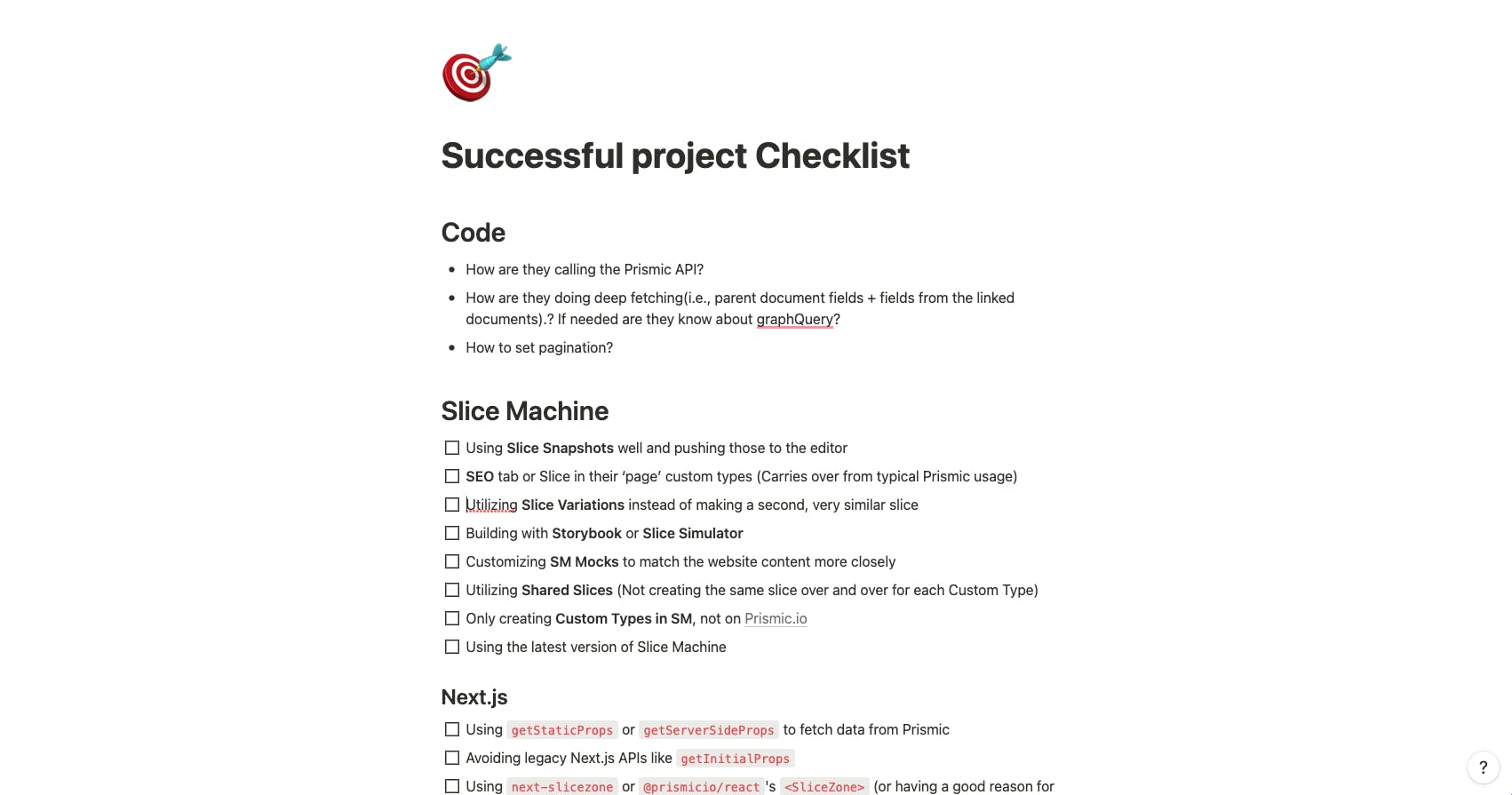 Collaboration flow - We can also help you get a smooth collaboration flow with your clients from the very start of the project by putting your repository on a higher plan, so they can start inputting content and testing Slices early on.
Sharing revenue - On any subscription your client ends up getting for their project, we'll give you back 20% of the annual subscription price.
Promoting your work - Once your project is finished, we want to tell the world about it. We'll add it to your profile in the new Hire a Developer section of our website. We want to feature your success on our blog, during our monthly meetup, and on our social channels.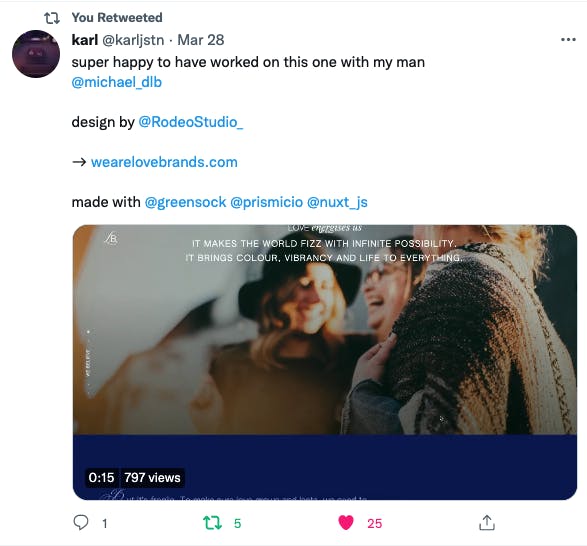 Joining the Partnership Program and getting featured in our Hire a Developer pages
When we onboard you as a Partner, and feature you on our Hire a Developer pages, we'll be adding our seal of approval to your work and presenting you as a Prismic expert to everyone visiting your profile.
If you've successfully built a Next.js or Nuxt.js website with Prismic, then you should definitely get into our Partnership Program.
The first step for joining is to walk us through that project and your implementation choices. From there, our Partnership team will be able to certify you as a Prismic expert.
Then they'll send you a form to get some information about your domains of expertise to add you to the Hire a Developer section of our site, and so we can connect you to specific leads we think you're the best Partner for.
Once you're in the Partnership program, our team will offer quarterly sessions, so they can help you plan how to win the projects you are currently working on.
👉 Get in touch with Noor or Simon from the Partnership team; they want to meet you and get you the support and help they can offer.
In a nutshell
We at Prismic love agencies and freelancers, and we genuinely want to be useful, trustworthy partners to you. This new Hire a Developer section of our site should benefit every Next and Nuxt agency or freelancer that loves building websites with Prismic and wants to connect with more clients in need of those services.
Please get in touch with the Partnership team through this form. We can't wait to meet you and work with you on taking your favorite stack to many more websites.
PS: Our team will host a live Meetup on YouTube this Thursday to get together with the community and discuss the updates we've released this week. If you have questions about the Partnership program, mark the meetup in your calendar and join us!