The Future of Website Content Creation is Visual and Real-time
Introduction: A new era of web content creation
The world of website building is about to take a monumental leap forward. We're thrilled to announce our new Page Builder, a tool that's more than just a product—it's a transformative shift in how we approach web content creation.
Build website pages like a slide deck
Our journey towards simplicity began with a pivotal question: "What if we could strip away the complexities of CMSs and let our users focus on the simple, intuitive parts of page creation?"
This led us down an exciting path, transforming our Page Builder into a tool that bridges the gap between the complex world of headless CMSs and the simple, intuitive nature of websites. We adopted a model reminiscent of building a Slide Deck—clear, streamlined, and efficient. With the real-time preview on the sidebar, you can see your changes as they will appear once published, saving you time and boosting your confidence as you edit.
We've put the simplicity of website building back on center stage, and we're excited to open up this new chapter with you.
Immerse into your creative process. Jump right into it.
The Page Builder is where marketing teams create growth-driving pages. Whether you aim to connect with your audience, attract traffic, or increase conversions, our new tool empowers you to achieve your full potential.
Staying in the flow of ideation and content creation is crucial. The new Page Builder provides real-time previews of how your content looks, helping you stay immersed in your creative process without interruptions.
The Page Builder is intuitive and flexible, operating on a system of Slices, similar to assembling slides for a presentation. You have complete control over your page's layout, and you can quickly navigate through the Slices to edit or add content as needed.
It's your place to create. The power of personalized controls and keyboard shortcuts.
The writing process is familiar and effortless, boosted with keyboard shortcuts and easy-to-use slash commands for text formatting. It's an instantly understandable UI based on familiar concepts, giving you the freedom and independence you need to do your best work.
It also offers customized controls tailored to your needs. Want specific SEO controls? You'll find a tab with custom fields so you can manage SEO metadata or analytics independently. Your brand and website performance are built right into your Slices, allowing you to control their content and choose the best layout for your story.
The users who tried it loved it
We've had the privilege of seeing our new tool in action, with our alpha users leading the charge. The responses have been overwhelmingly positive. Their stories are a testament to the value the Page Builder brings to the website-building process.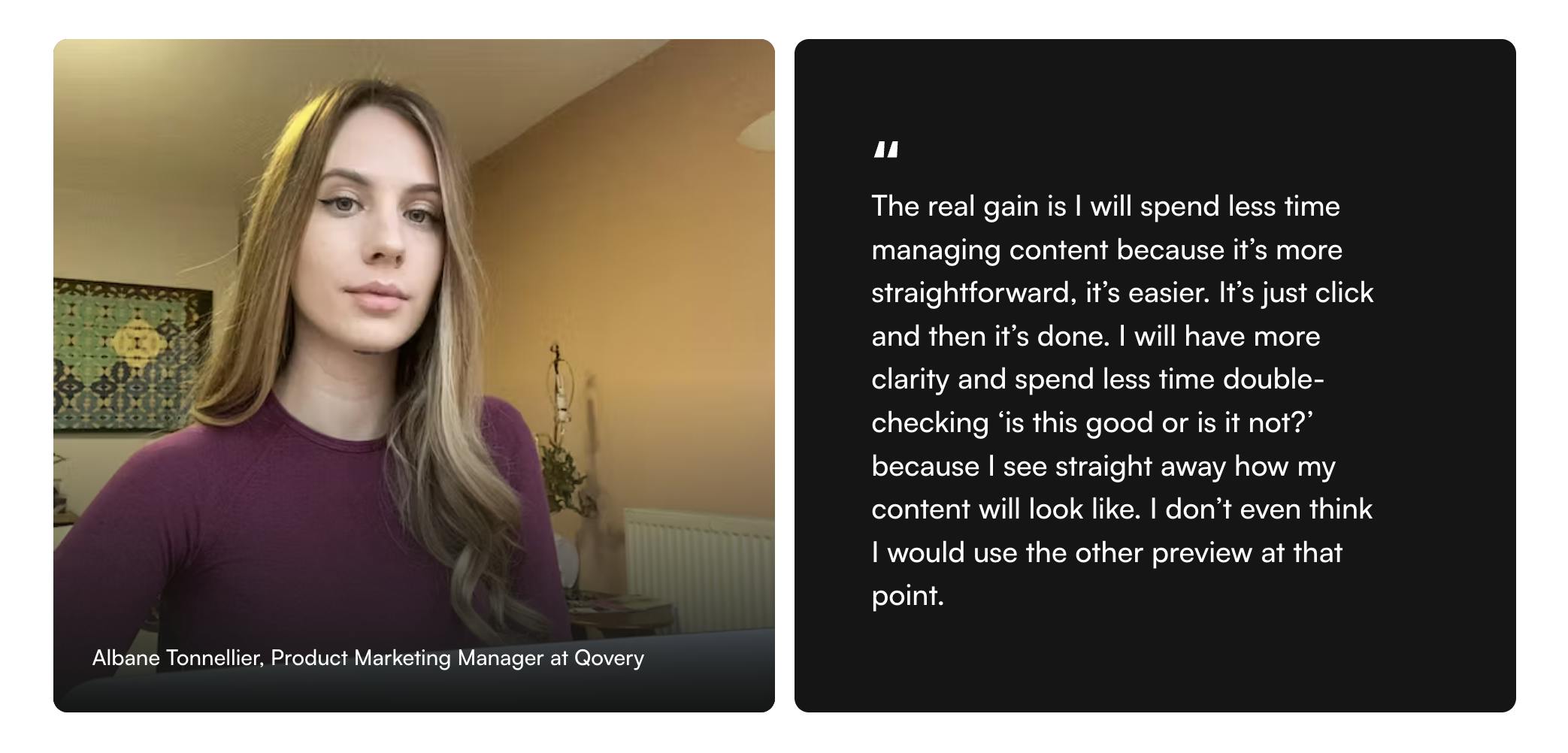 Become Part of the Page Builder Journey
Ready to experience the future of web design? Join the enthusiasts already enjoying the benefits of the Page Builder. It's a simple process, and we've laid out all the steps to get you started.
The journey ahead: our commitment to your success
The Page Builder is only the beginning. As we continue to innovate, you can expect more groundbreaking tools and features that will redefine the website-building landscape. Together, we're not just building websites; we're crafting the future.