Headless CMS 101: The Only Guide You'll Need
This complete guide will provide you with everything you need to understand headless concepts and leverage them in your projects.
For the longest time, traditional monolithic Content Management Systems (CMS) like WordPress, Drupal, and Joomla, which couple the frontend and backend together, were the go-to approach for managing website content. However, with the rise of new technologies and the need for more flexible and scalable solutions, a new type of CMS has emerged: the Headless CMS.
In this ultimate guide, we will dive into the Headless Content Management System world, learn how it works, the types of CMS, its benefits, use cases, factors to consider when choosing one, and much more. Let's dive in!
Headless CMS glossary
Headless architecture
Headless architecture is a contemporary web development approach that divides the frontend, the part of the system that users interact with, from the backend, which houses all of the data and logic. It entails separating the "head" (frontend) from the "body" (backend).
API-first
API-first means designing and building an application's backend infrastructure with APIs as the primary focus. Traditionally, developers would first build the user interface (UI) and then create APIs for the frontend functionalities. However, with the API-first approach, developers start by designing and developing APIs.
Multichannel content delivery
Multichannel digit content delivery is the practice of distributing content through multiple digital channels. The benefits of implementing a multichannel strategy include:
Increased market reach and audience engagement
Diversified content distribution channels
Enhanced brand and content visibility
Brand consistency
What is a Headless CMS?
A Headless Content Management System is a content management system that focuses solely on content creation, management, and delivery without the constraints of a built-in presentation layer. Unlike traditional content management systems, which combines the content management and presentation layer into a single system, a headless CMS decouples these layers, allowing for greater flexibility and scalability.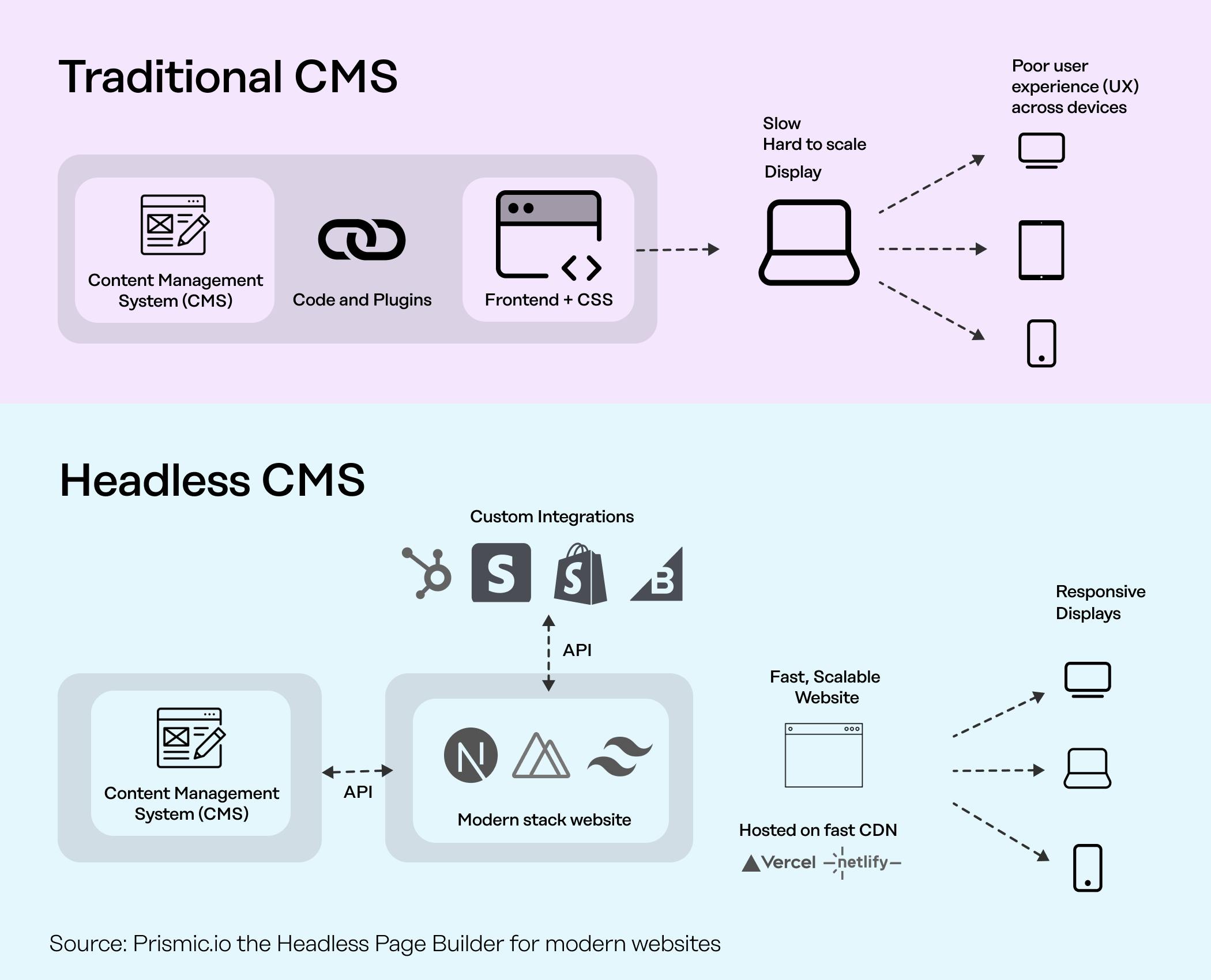 In a headless architecture, the CMS acts as the backend and provides a user-friendly interface for creating, managing, and publishing content like text, images, videos, and documents. On the other side of things, a developer handles the frontend, or "head," where the content is displayed and rendered. The frontend could be websites, mobile apps, other digital experiences, signage, etc.
Due to this separation of contents, a headless CMS takes the API-first approach and uses APIs to facilitate communication between the presentational layer and the content repository. This provides several core features:
Content creation and editing
Content organization and structuring
User roles management
Content creation workflow management
Version control
SEO optimization
Starter templates.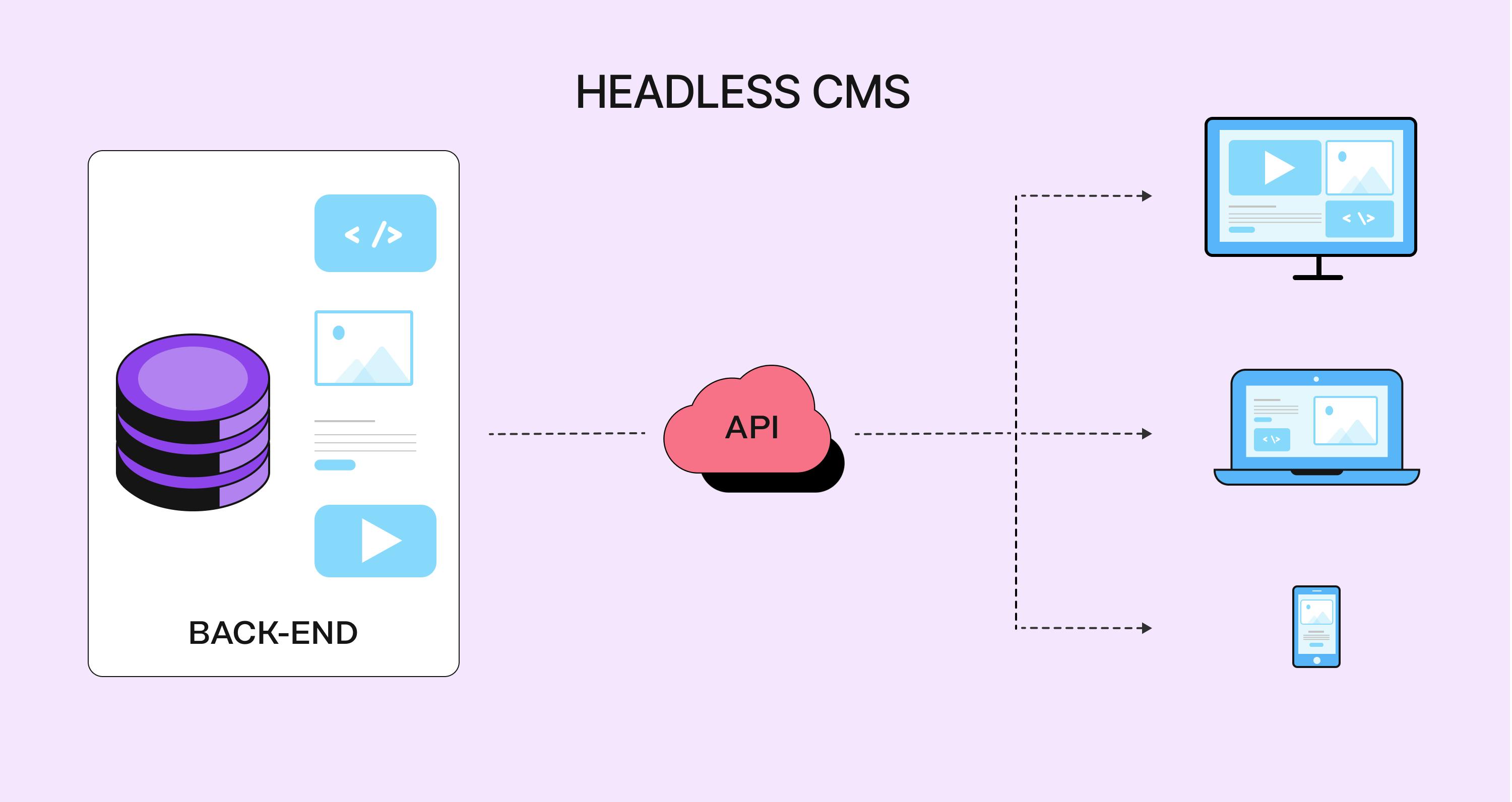 Still unsure what a Headless CMS is?
Types of headless CMS
API-first CMS
An API-first CMS, like Prismic and Contentful, serves your content via a REST API or GraphQL API. This type of CMS provides maximum flexibility in managing content and delivery.
Features
Supports integration with various frontend technologies like Next.js and Svelte.
Provides content and media asset management functionality.
Pros
Provides greater flexibility over the design and look of the presentation layer.
There are no content delivery limitations, as content can be distributed to any frontend via APIs.
Cons
Requires developer expertise for proper implementation.
Increased costs as you experience higher traffic on your website.
Use case: Ideal for teams that want full control over the presentation layer and need to serve content to multiple touchpoints like websites, mobile apps, and IoT devices.
Prismic evolved from a Headless CMS to a Headless Page Builder
We augmented our headless CMS capabilities by empowering developers to craft pre-styled, modular website sections—Slices. These slices enable content teams to assemble pages rapidly, fostering agility in strategy deployment.

Imagine creating over a thousand unique pages from just 15 slices. Top-tier companies like Netflix and Spotify harness this modular architecture to accelerate iteration and growth.

See the page builder in action below, or try it yourself with our in-website demo.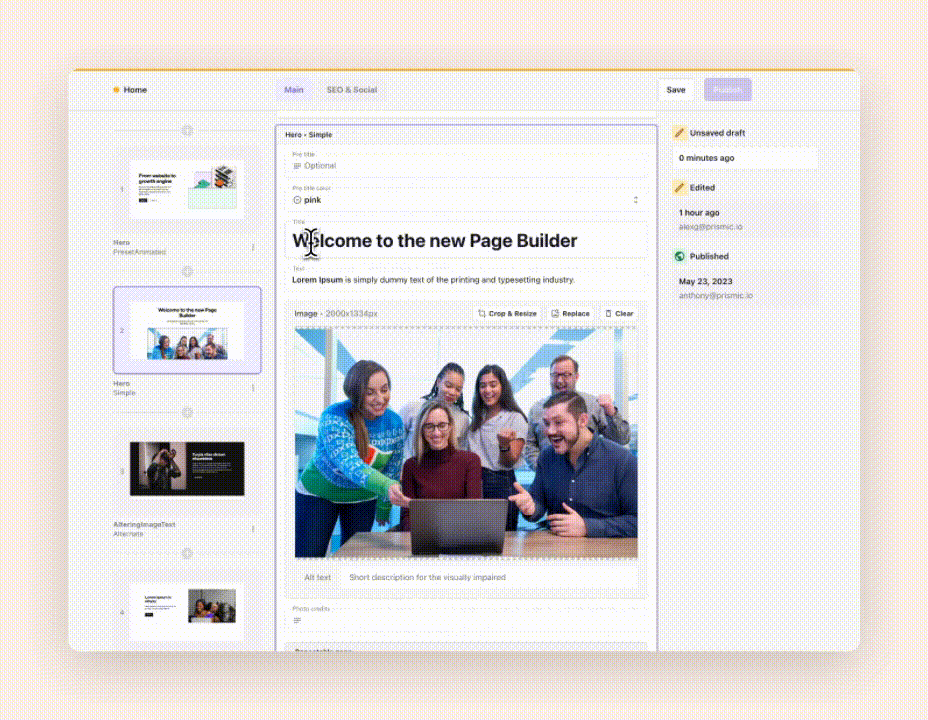 Git-based CMS
A git-based CMS, like Netlify CMS, uses Git, a version control system, to manage and track changes to content. It allows developers to manage their content in a Git repository, providing all the benefits of Git for version control in content management.
Features
Supports Git-based workflows like version control, branching, merging, and rollbacks.
Content is written in text-based files like Markdown.
Pros
Developers can use their preferred code editors and IDEs to manage content.
Content is stored in local repository files, allowing developers to freely migrate content from one CMS to another.
Cons
Limited support for non-technical users.
Requires knowledge of Git.
Use case: Ideal for developers who enjoy the Git-based workflow that involves branching, merging, and rollbacks.
Self-hosted CMS
Instead of relying on the third-party vendor's hosting, a self-hosted CMS, like Strapi, gives you full control over your CMS's server, cloud installation, and configuration.
Features
Ability to deploy on-premises, on your favorite public cloud, or the PaaS of your choice.
These are mostly open-source CMSs that give you access to the code base and allow you to make customizations to fit your needs.
Pros
Greater flexibility and potential cost savings.
Provides greater control over your data by allowing you to host it on your own servers or cloud environment.
Cons
Takes time to set up.
Requires technical expertise to set up and maintain.
Use case: This type of CMS is appropriate for businesses that have strict security and compliance requirements, have a DevOps team they can dedicate to the project, and prefer to have complete ownership and control over their data.
What is Headless Commerce in 2023?
If you're working on an e-commerce website, this article explaining headless commerce, its advantages, and how to start will certainly help you verify that Headless Commerce is the right choice for your project.
Benefits of a Headless Content Management Systems for businesses
Improved scalability
Why it is important: As your business grows, so do your audience and content needs. You'll need a CMS that can handle your expanding website traffic and amount of content.
How it delivers: Scaling is much easier with a headless CMS, as you can scale the backend independently from the frontend because they are decoupled. This means you can handle high traffic volumes without compromising performance or user experience.
Shorter development times
Why it is important: A faster time-to-market is important for staying competitive and launching new campaigns, landing pages, and apps. You need a system that allows you to ship fast.
How it delivers: With the headless approach, development and content teams can work independently and in parallel. This approach speeds up development cycles and eliminates delays.
Meet your audience where they are
Why it is important: The customers of this modern age consume content through different digital platforms like phones and wearables. It is important to reach them where they are and ensure a consistent messaging and experience.
How it delivers: With headless content management system, there is no limit to the types of channels you can distribute your content to. Potential delivery channels include any digital touchpoint that supports communication with APIs, such as: Websites, Mobile apps, Digital and signage.
Future-proofing
Why it is important: Technology is constantly evolving, which means that you need a CMS that allows you to adapt to emerging technologies.
How it delivers: A headless CMS allows you to stay at the forefront of innovation and remain competitive. Is there a new frontend framework that's proven to be 100 times faster than the alternatives, or are you looking to target customers through a new digital channel? You can make a switch and stay up-to-date with the latest innovations. The best part is that you don't need to make any changes to your content or CMS to achieve this.
Improved developer experience
Why it is important: With a traditional CMS, developers are limited to working with the tools and technologies the CMS supports.
How it delivers: A headless CMS provides greater freedom and tech stack flexibility and allows you to choose your preferred javascript framework, whether Vue, Nuxt, React, Next.js, Svelte, Sveltekit, etc. This can enhance productivity and enable faster development.
Single source of truth for content for multiple platforms
Why it is important: Before headless CMSs emerged, content teams had to create duplicate content for the different delivery channels. This inefficient content management workflow led to inconsistencies and was a nightmare to manage, particularly for large-scale projects.
How it delivers: A headless CMS stores content in a central repository and uses APIs to deliver the content to as many frontends as needed. This "create once distribute everywhere" system streamlines content management by providing a single source of truth.
Eliminates manual software updates
Why it is important: Traditional CMSs often require extensive IT resources to manage software and plugin updates. Not only is this time-consuming, but it can also introduce security risks if not performed regularly.
How it delivers: With a headless CMS, you don't have to worry about performing manual updates because the content management system provider handles them. This means that your software remains up-to-date, automatically gets the latest upgrades, and remains secure, all while leaving you to focus on core business activities.
Improved SEO performance with Static Site Generators
Why it is important: If content is king, then SEO is the kingmaker. It doesn't matter how great your content is if your target audience can't see it. Websites built with traditional CMS often suffer from low loading times because the browser needs to simultaneously load the code for the backend, frontend, and content.
How it delivers: A headless CMS addresses these issues by decoupling the frontend and backend and delivering the content via a Content Delivery Network (CDN) for optimal performance. It also allows you to work with frameworks and static site generators like Next.js that offer server-side rendering and static site generation capabilities. This further improves SEO performance by allowing bots and web crawlers to detect metadata and index web pages.
Headless vs. Traditional SEO
To know more about the gain in SEO you can have by using a Headless CMS, check out our Headless CMS SEO article. We go through how optimizing SEO on Headless differs from traditional monolithic SEO. We also included technical SEO best practices for developers.
Scenarios where a headless CMS is the best choice for your business
A headless CMS has several benefits, as we have seen. However, that doesn't mean headless architecture is always the best approach to follow. Here are some scenarios that call for using a one.
When your frontend requires a unique and creative design: There are limits to how creative your frontend can be when working with a traditional CMS. On the other hand, a headless CMS gives you full control over the presentational layer, allowing you to make it as wild as possible. Check out examples of some unique websites businesses and developers have built with Prismic; this is one of my favorites.
If your development team requires greater flexibility: If your developers are restricted from working with the latest technologies that allow them to do their best work, it may be time to switch to a headless CMS.
When you want to reduce the risk of cyber attacks: Traditional CMSs are at risk of threats like DDoS attacks due to the coupling of the frontend and backend and the large number of plugins and extensions they provide. However, headless CMS eliminates these risks by decoupling the frontend and backend.
When you want a single source of truth for your content: With a headless CMS, you can create a piece of content once and use the APIs to deliver the content to your chosen digital touchpoints.
When you want unrestricted market reach: With a traditional CMS, there is a limit to the number of platforms you can deliver your content. This affects your market reach, particularly if your target audience uses next-gen platforms. However, headless CMS has no restrictions, allowing you to meet consumers where they are.
When your current content update process requires multiple copy and pasting: If you currently have to copy and paste content changes across 20 frontend layers, that is a strong indicator that you need to switch to a headless CMS for your content management needs. You get one source of truth, and any changes made to the content automatically appear on all frontends, no matter how many.
How to Choose a Headless CMS?
Headless CMS use cases
A headless CMS can be used to build a wide range of projects across various industries. Here are some common headless CMS use cases.
Marketing websites and landing pages
With a headless CMS, you can create marketing websites and landing pages for marketing campaigns, product launches, and special events. The best part is that you can update the content as needed.
An example is Alicia Keys' website, powered by Prismic and Nuxt.js.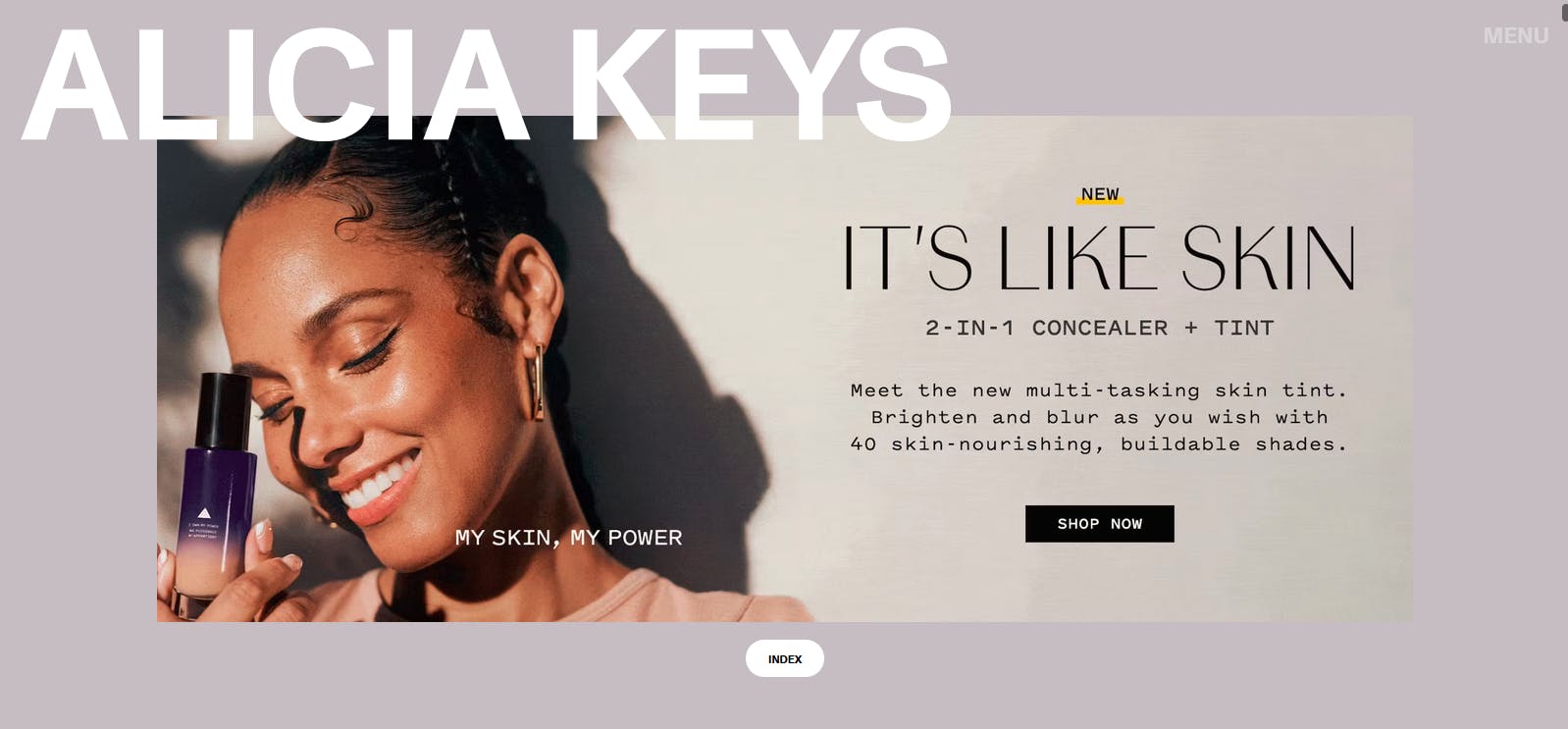 Blogs and SEO-optimized pages
A headless CMS allows you to accomplish maximum SEO performance on the technical and content optimization side of things. Headless systems further improve SEO performance by offering built-in software development kits (SDKs) for popular frameworks like Next.js, which optimize crucial Core Web Vitals like page delivery speed and performance.
An example is Pallyy, a social media management platform that grew its daily visitors from 500 to 10,000 after switching to Prismic.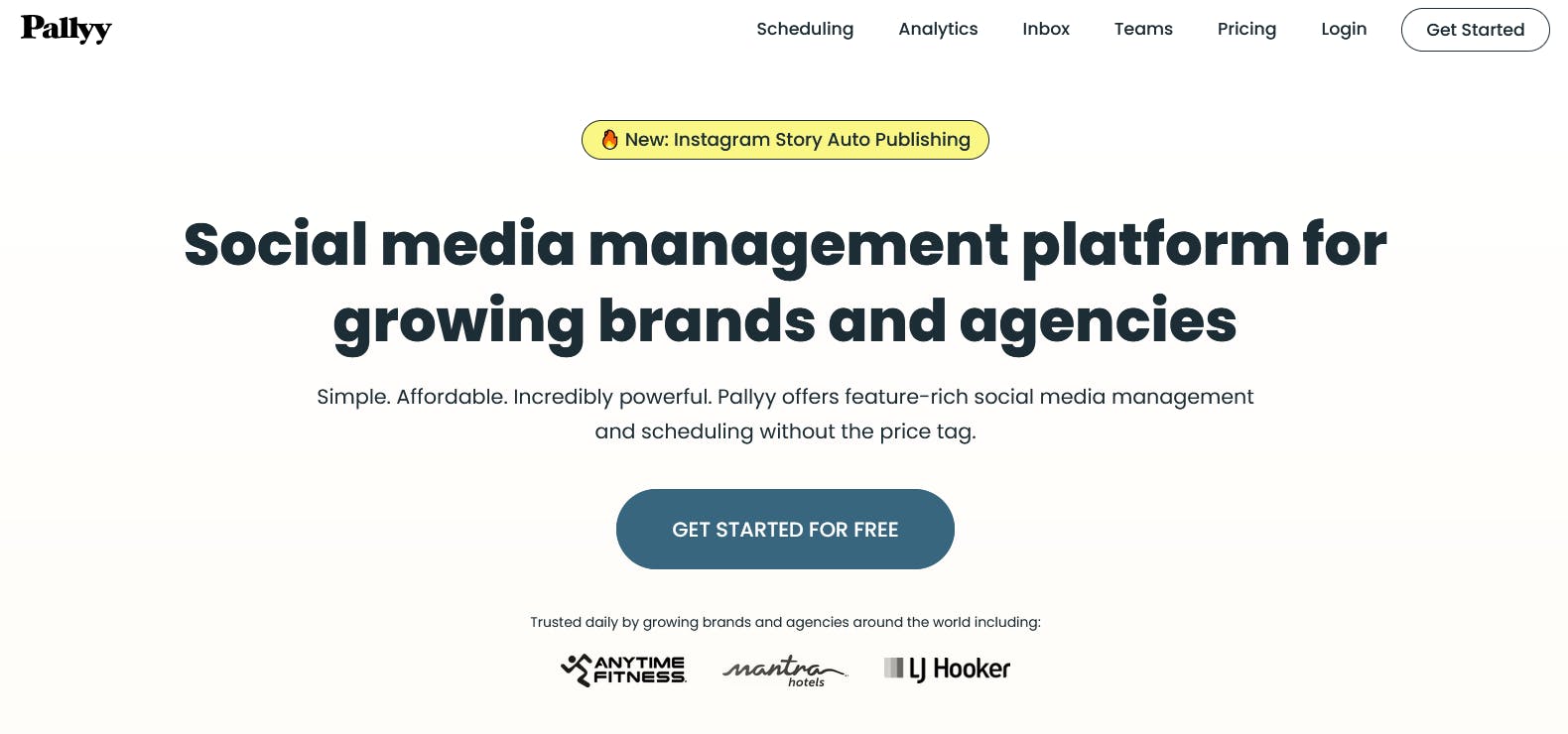 E-commerce platforms
The headless approach is a game changer for e-commerce platforms. It allows businesses to easily manage and update product catalogs, pricing, and inventory information across multiple channels. It also ensures that customers get a consistent and personalized shopping experience.
An example is the Eataly e-commerce website built with Prismic and Nuxt.js.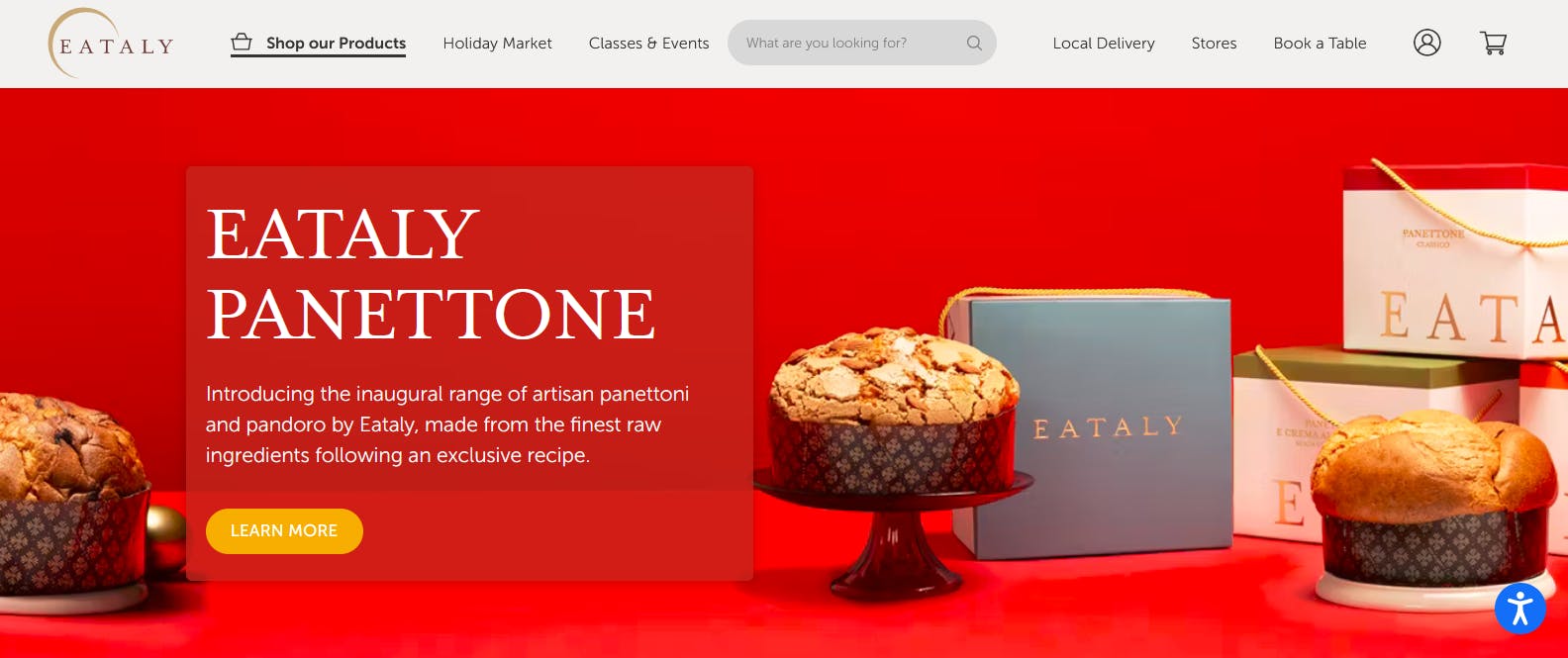 Personal portfolios
Looking to create a unique portfolio website that showcases your creativity and experience while allowing you to tell a story with your content? Then, a headless CMS is what you need. With a headless CMS, you can create a portfolio that stands out from the crowd and leaves website visitors with a strong impression.
An example is Raphaël Bourdin's portfolio, built with Nuxt.js and Prismic.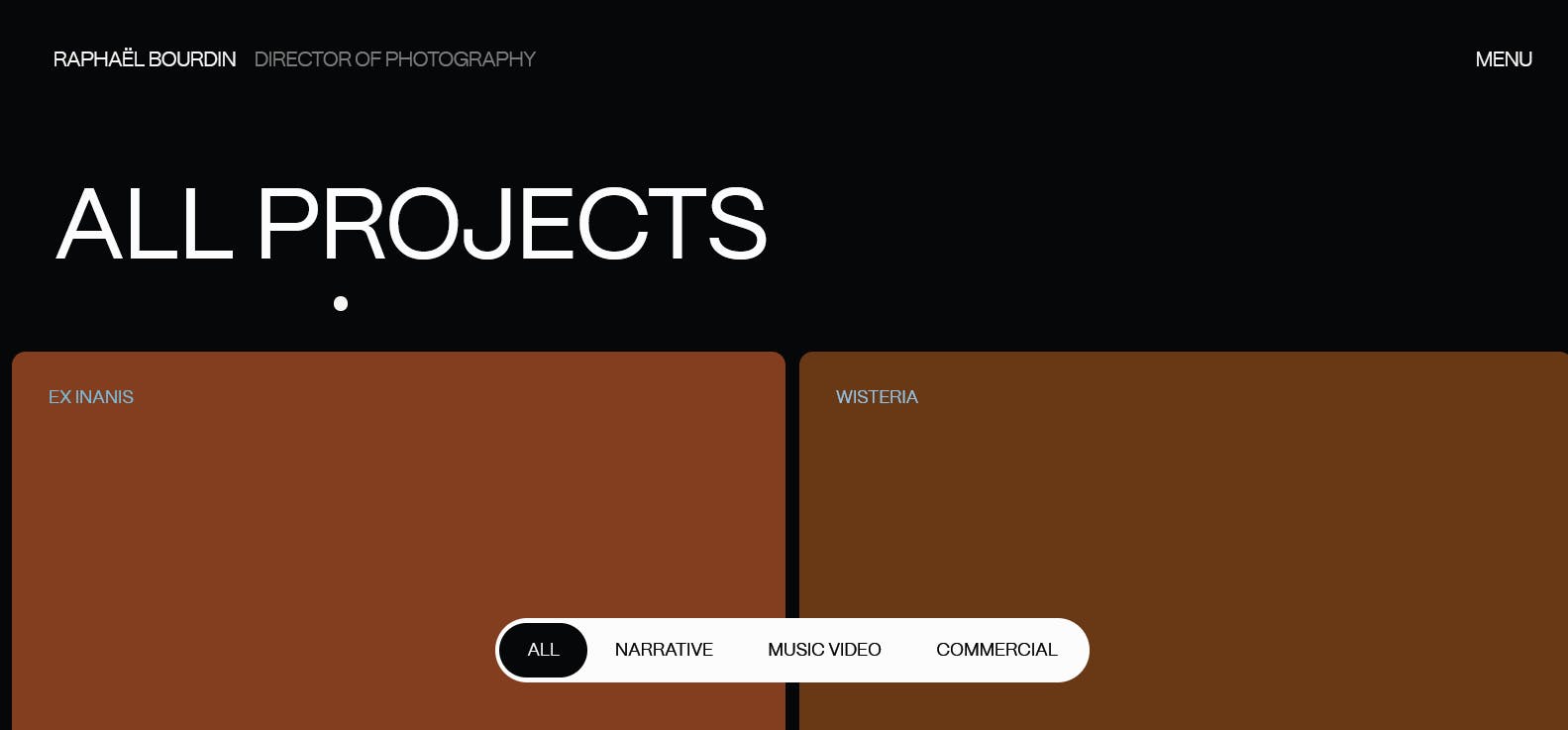 Mobile apps and web apps
With a headless CMS, you can deliver content through APIs to as many mobile (Android and iOS) and web applications. The headless approach makes it easier for developers to ship faster and for content teams to effectively manage content through an intuitive interface.
An example is JPMorgan Chase's investment app, Nutmeg, which services content through Prismic.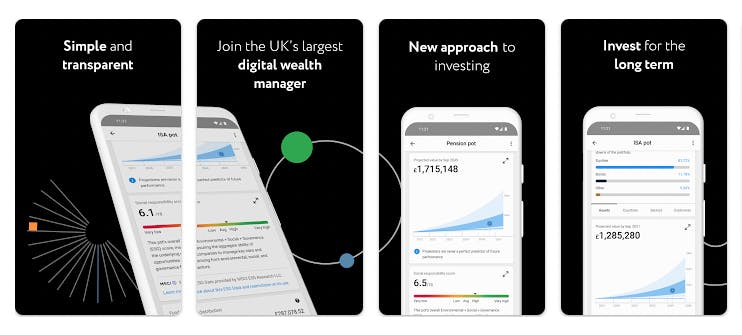 IoT and smart devices
You can use a headless CMS to seamlessly deliver content across different devices, including:
Smart fridge displaying recipes
Wearable devices
Digital kiosks
Voice-controlled speakers
Digital signage
You can use a headless CMS to deliver multimedia content to digital signage. A headless CMS also allows you to make real-time updates to the displayed content, whether event schedules, promotional offers, or news updates.
The digital billboards in Times Square are a great example of digital signage in action.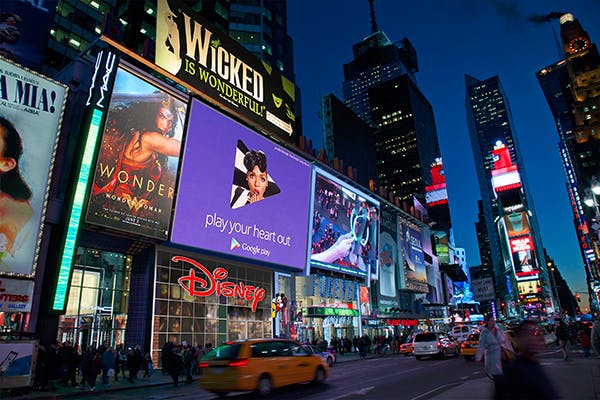 Multilingual content management
Headless CMS makes it easier to manage and serve content in different languages, ensuring consistent messaging and brand identity across various regions. This is important if you target a diverse language-speaking audience or operate in multiple countries.
An example is Zwift, which leveraged Prismic and Next.js to create a multilingual website for a global audience.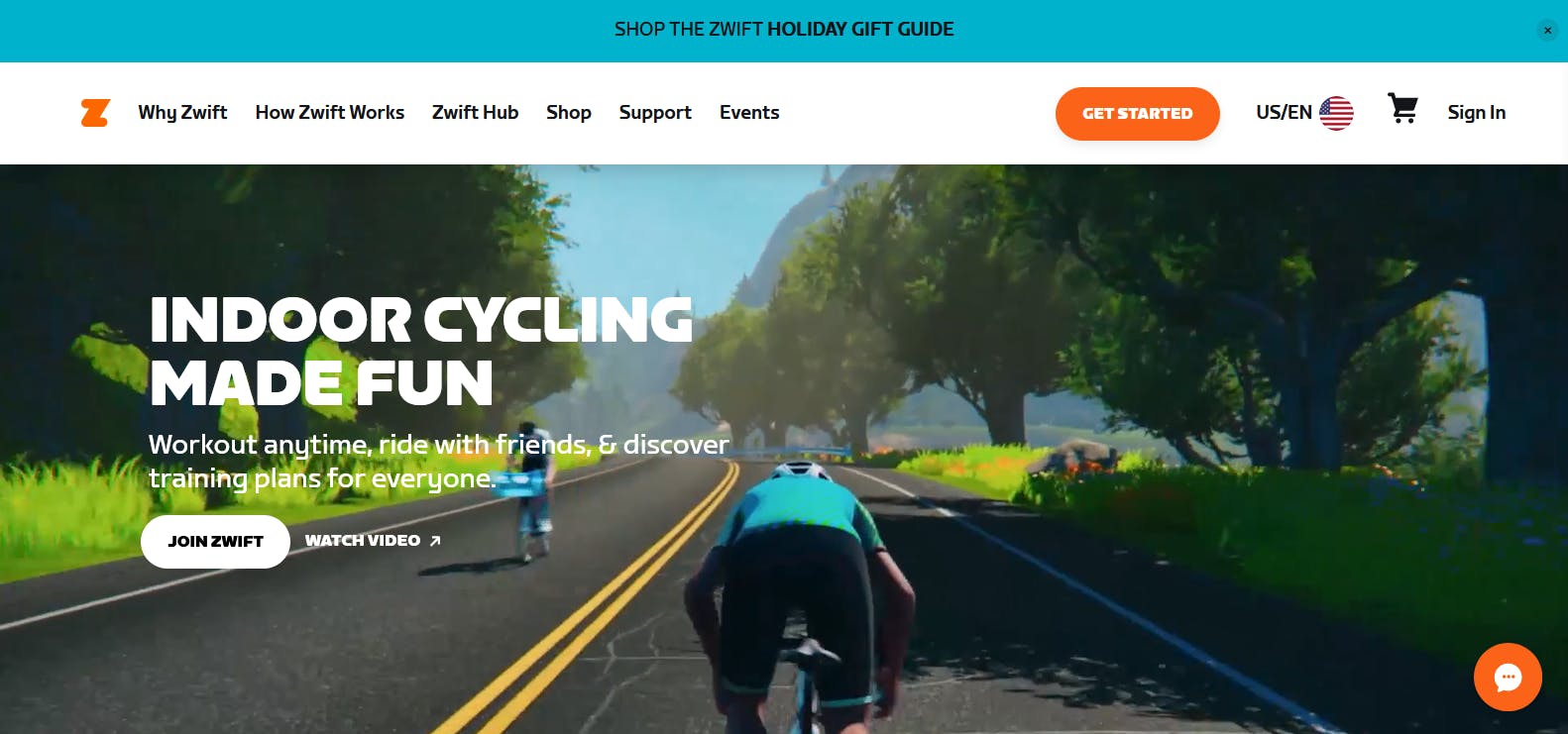 Key Takeaways
Here's a brief summary of everything we've covered in this article:
A headless CMS allows you to create and deliver fast-loading and on-brand content experiences.
It provides several benefits for marketing and development teams, including flexibility, scalability, and the ability to reach your target audience on their preferred digital platform.
Among other reasons, a headless CMS is the right choice for you if you need a solution that acts as a single source of truth for your content and gives full control and creative freedom over your frontend.
Factors to consider when choosing a headless CMS include content needs, tech stack requirements, and cost.
You can use a headless CMS to build different types of digital products, including marketing websites, landing pages, blogs, SEO-optimized pages like blogs, and e-commerce platforms.
Getting started with Prismic
Learn about Prismic
See Prismic in action
Start integrating and building with Prismic
Topics & Questions on Headless CMS
Are headless CMS worth it?
Headless CMS are worth it for projects that require high flexibility, multichannel content delivery, and custom user experiences. They are particularly beneficial for managing large content volumes, delivering content across various platforms, and integrating with modern development frameworks. However, they require more technical expertise and can involve higher initial development costs
What is the difference between headless CMS and non headless CMS?
The key difference lies in the architecture. A headless CMS separates the content management backend from the presentation layer (frontend), allowing for greater flexibility in how and where the content is displayed. Traditional (non-headless) CMSs integrate both the backend and frontend, limiting flexibility but often offering a more straightforward setup with built-in templates
What's the best headless CMS?
Identifying the "best" headless CMS depends on specific project requirements and preferences. Factors such as budget, preferred programming languages, comprehensive documentation, content management features, and support level should be considered. Prismic.io is a solid option chosen by teams at Dribbble, Spotify and the Container Store, but it's important to evaluate different CMSs based on individual needs​​.
What is the downside of headless CMS?
The main downside of a headless CMS is the requirement for a higher level of technical expertise compared to traditional CMS. This approach necessitates the construction of custom frontends, which can incur higher development costs and complexity​​.
FAQ
Here's the TL;DR — a headless CMS is a content management system that's not directly built into your website like WordPress is. Instead, it's a CMS that's hosted separately in a cloud, so that the content management interface is developed and maintained by a company. From there, developers can use an API to retrieve content from the cloud at any time.
This is a great setup because the CMS no longer limits what kind of technology your website can run on, and content delivered on an API can help your website's performance.
What is headless vs standard CMS?
A standard CMS tightly integrates content management and presentation, where content creation and display are linked within the same system. In contrast, a headless CMS decouples content management from the presentation layer, enabling developers to deliver content through APIs to multiple front-end applications or websites, granting greater flexibility and customization.
What is the benefit of a headless CMS?
The main benefit of a headless CMS is its flexibility and scalability. By decoupling the backend content management from the frontend presentation layer, developers can use their preferred technologies and frameworks to create custom user experiences, which allows for easy content delivery across multiple platforms.
What is a headless page builder?
Headless page builders allow you to ship web pages faster using a custom page builder crafted by your developers. Your development team retains complete autonomy and control over the code they employ (this is the essence of the 'headless' concept), and this grants you greater freedom to design pages according to your preferences.
Is headless CMS better than WordPress?
It depends on the business goals and technical ability of your team. WordPress can also be used in "headless" mode, where its content is accessed via an API and displayed using a separate front-end tool. This provides some of the benefits of a headless CMS while still allowing you to use WordPress's content management features. However, WordPress as a CMS is less flexible and scalable than a headless CMS page builder.
Is headless CMS just a database?
While a headless CMS acts as a repository for storing content, it is not just a database. Unlike a database, which requires technical knowledge, a headless CMS provides a friendly interface and editor for content creators to make changes to content.
What is headless CMS for beginners?
A headless CMS is a backend-only content management system that separates a content storage repository from the presentation layer where the content is displayed. It then makes the content accessible via GraphQL or REST APIs.
Solutions like Prismic take the headless concept a step further by providing a page builder that makes building and shipping pages easier.
How do I make my CMS headless?
The steps involved in turning a traditional CMS into a headless one include:
Selecting a headless architecture that suits your needs
Setting up the content delivery APIs
Defining the content models
Migrating your existing content to the new headless CMS
However, instead of converting your current solution to a custom headless CMS from scratch, which requires heavy planning and resources, you can switch to a headless provider and get started right away.
What's the best headless CMS?
Determining the "best" headless CMS requires considering various factors, including ease of use, integration capabilities, scalability, and the specific needs of your project. Prismic, as a headless CMS, emphasizes its flexibility, ability to integrate with modern development frameworks, and a user-friendly content management interface. The best headless CMS for your needs would be one that aligns with your technical requirements, enhances your team's productivity, and fits within your budget.
Are headless CMS worth it?
Headless CMSs are worth considering for projects that require high levels of customization, scalability, and omnichannel content delivery. They offer benefits like improved security, better integration with modern development tools, and flexibility in content management and delivery. However, they also come with challenges like potential higher costs and complexity. The decision depends on your project's specific needs, technical capabilities, and long-term digital strategy​​​​.
Is there any free headless CMS?
The cost can vary depending on factors like traffic and website size. Some headless CMS platforms, like Prismic, might offer free tiers or open-source solutions, which can be a starting point for smaller projects or for those wanting to explore headless CMS capabilities without initial investment. The choice should align with your project's scale and the functionalities you need​​​​.
What is the most powerful headless CMS?
The concept of the "most powerful" headless CMS can be subjective, as it often depends on specific needs like customizability, scalability, and integration capabilities. Prismic emphasizes the importance of features like flexibility, seamless integrations, and a developer-friendly environment. A powerful headless CMS would be one that effectively balances these aspects while providing robust content management and delivery capabilities.
What is a "decoupled" architecture?
A decoupled architecture separates the front end and back end into modular components that communicate via APIs. This is the foundation of headless CMS.
How does headless CMS deliver content to other channels?
Headless CMS uses APIs (Application Programming Interfaces) to deliver content from the back-end repository to any front-end channel, whether a website, mobile app, IoT device, AR, etc.
What technology challenges can monolithic traditional CMS have?
Traditional CMS can struggle with scalability, integrations, and adopting new web technologies like static site generators. Their coupled nature makes innovation and new technology adoption tougher for developers and website teams.
Which CMS enables greater personalization and optimization?
Headless CMSs allow for fully custom front-ends, that can be tailored to each audience segment by integrating a personalization tool into your website for maximum personalization and website optimization.
Why would you use a headless CMS?
You should consider going for a headless CMS because of the flexibility, scalability and improved UX. The headless approach improves the developer experience by allowing you to use any framework or language of your choosing to work on the front end.
What is the difference between headless CMS and decoupled CMS?
Headless CMSs and decoupled CMSs are related but distinct concepts. Both involve separating the content management backend from the presentation front-end. This allows greater flexibility compared to traditional monolithic systems.
However, headless CMSs completely remove any front end, delivering only API-based content access. Decoupled CMSs still allow for an optional bundled front-end, even if it is detached from the backend. So while headless CMSs have a decoupled architecture, not all decoupled systems are completely headless.
What is the downside of headless CMS?
Since headless CMSes lack a built-in front end, you will likely need front-end development capabilities to build the presentation layer, although some headless CMSes offer starter templates for beginners.
What is the downside of a traditional CMS?
Traditional CMSs have limitations compared to modern solutions. Their tightly coupled front-end and back-end make them less flexible and adaptable. This monolithic architecture can also cause performance and scalability issues as websites grow. Traditional CMSs may be more vulnerable to security threats due to their many plugins. They can be difficult to customize significantly without major development work. Some impose vendor lock-in, restricting hosting and modifications.
What are 3 benefits of using a headless CMS?
Three major benefits of using a headless CMS are:
- Enhanced content management: it acts as a simple source of truth for content teams and makes it easier to ship on-brand pages, launch marketing campaigns, and update content effectively.
- Scalability: decoupling the frontend from the backend makes it easier to scale each component independently.
- Developer freedom: because a headless CMS is frontend-agnostic, developers can choose the best and latest frameworks to work with, allowing for a superior developer experience and greater frontend performance.
Why is headless CMS better?
A headless CMS is better than a traditional CMS because it provides greater content management flexibility and adaptability. Separating the frontend from the backend allows for seamless content delivery across different digital touchpoints like websites, mobile apps, and wearables.
Headless systems can also adapt to the latest technologies as they emerge. Want to try a new frontend framework? You can do it without any restrictions. Want to deliver content to your product or digital signage? All you need to do is query the content via APIs.
What are the security benefits of headless CMS?
A headless CMS's security benefits include:
- Reduced attack surface: less vulnerable to threats like DDoS because it has a lower attack surface due to the decoupling of the frontend and the backend.
- Easier updates: software updates occur automatically, meaning the CMS remains secure against cyber threats.
Is headless CMS good for SEO?
Is headless CMS the future?
Headless technology will increasingly play a vital role in how we manage content and deliver unique user experiences to audiences. As more digital channels emerge, headless CMSs will grow in demand and become a content management standard because of the flexibility and omnichannel capabilities they offer.
As demand increases, so does the headless industry. There are currently 119 headless CMSs available in the market, and the industry's market size is projected to reach $5.5 billion by 2028
Is headless CMS more expensive?
Most headless CMSs offer generous free tiers that allow you to launch without breaking the bank. However, businesses will need to hire frontend developers to build a custom frontend, which can be expensive. According to Upwork, frontend developers charge between $15 to $35 per hour.
Ultimately, whether a headless CMS is more expensive depends on factors like:
- The type and complexity of the project
- The amount of resources you need (cloud storage, API calls, etc.)
- The number of users expected to use the CMS
- The amount of traffic and visitors the project has
- Other specific requests like support and uptime SLAs, infosec and legal review, priority support, and custom training sessions